Bishop Michael W. Smith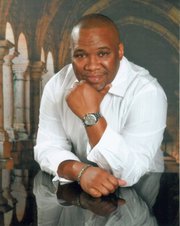 Bishop Michael W. Smith
is a native of
Miami
,
Florida
, where he attended and graduated from
Hialeah-Miami
Lakes
High School
. After high school, Michael matriculated to
Nova
Southeastern
University
where he majored in Elementary Education. Upon completing 109 credit hours, Michael decided to finally heed to the call of God on his life. His practical preparation was augmented by his pursuit of academic excellence from
Trinity
International
University
where he majored in
Christian
Ministries
. An avid student of the Word, Michael applied for and subsequently passed the first level of ministry with the
Church
of
God
, headquartered in
Cleveland, Tennessee
, and became an Exhorter on the 8
th
of January 2003. On January 21, 2005, Michael became an Ordained Minister, and was elevated to the highest rank of ministry in the
Church of God
, an Ordained Bishop on the 30
th
of May 2008.
As a minister, "Pastor Michael" as he is affectionately called has worn several hats. In his primary role for many years, Bishop Smith was the Youth and Christian Education and Children's Pastor at the North Miami Avenue Church of God in
Miami, Florida
. He was also the host for the church's weekly radio program, "Walking by Faith".  For approximately 7 years, Bishop Smith also served as the District Youth and Christian Education Director, a role in which he was the shepherd of the young people and children of 7 churches. In November of 2006, Bishop Smith was appointed as the Regional Coordinator for the Southeast region of Youth and Christian Education for the Florida-Tampa office of the Church of God. In this capacity he had oversight of the Youth and Christian Education ministry of 57 churches. Bishop Smith is a member of the governing board of the Non-denominational group "Committee for the Honoring of Our Veteran Ministers." P Pastor Michael is a full time itinerate Evangelist. His achievements and God given abilities have garnered the attention and demand of churches and the community alike.
Bishop Smith is a Godly man, who dedicates his entire life to serving and equipping the saints as well as bringing people into a deeper relationship with Jesus Christ for the glory of God. Pastor Michael uses as his personal theme words noted journalist Tom Brokaw once said, "It is easy to make a buck, it's
a lot tougher to make a difference." Bishop Smith's desire is to make a lasting and positive difference wherever he goes.
Bishop Smith is the very proud father of 18 year old Danielle.
Pastor Michael lives a life of continual, effectual, and fervent prayer. He has dedicated his life to the ministry that God has called him to. He counts himself a prisoner for Christ and an ambassador of the unadulterated, invincible, and infallible gospel of the Lord Jesus Christ. His life's passion and true purpose is expressed through Paul's writings in 1
st
Corinthians 9:16 & 19,
"For though I preach the gospel, I have nothing to glory of: for necessity is laid on me; yea, woe is unto me, if I preach not the gospel.... For though I be free from all men, yet have I made myself servant unto all, that I might gain the more."